Rent a tent provides camping without worries
At Domaine LaCanal you can rent a tent. Choose a fully equipped Safari Lodge or a Dutch Karsten tent. Idyllic rural retreat in the Mountains of Lacaune
All tents have a pretty unique pitch, with fantastic views over the countryside. Fully equipped with all conveniences such as kitchen utensils, a refrigerator, "real" beds, wooden garden furniture, electricity etc. If you want more holiday spirit than to book one of the extras.
Perfect for those who love camping outdoors but don't want the hassle of setting up a tent. Once you've arrived at the campsite, your accommodation is already set-up for you. All you need to do is grab a cold drink and start enjoying your holiday.
For your rest, relaxation here and there that little bit more comfortable and adventurous camp for children "sleep" in a real tent.
In a comfortable and fully equipped rental tent, it is a vacation for everyone!
Rent a Safari Lodge tent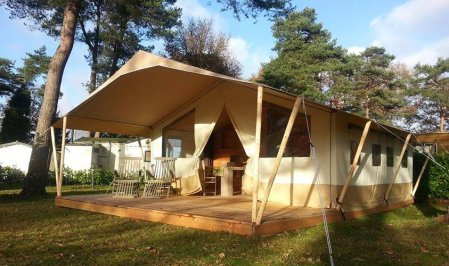 We Rent Luxury Safari Lodge Tents. Fully equipped with two separate bedrooms, living with furniture, kitchen and covered terrace.
Sleeps up to 5 guests
What's better than after a long and weary journey right to sit on your porch for your tent equipped with a snack and a drink to enjoy the setting sun. Ready to camp your equipped tent is already pitched. When you arrive you can enjoy an unforgettable vacation.

Cosy stay in a safari lodge rental tent on one of the most beautiful places in France.
Karsten tent rental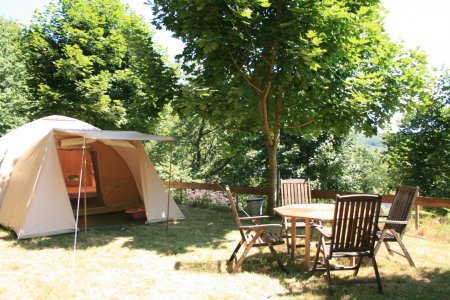 We offer a spacious fully equipped Karsten tent rental. Already assembled and fully equipped so you can directly enjoy your holidays. This magnificent inflatable tent is a Dutch fabricate.
Sleeps up to 5 guests
You sleep in a comfortable bed and in the morning you can enjoy a hot oven-fresh breakfast buffet.
With clear evenings a beautiful sky full of stars for the evening to fall asleep on a "real" bed!
Online bookings
Check availability and book your holiday in a few clicks with our online reservation system Search & Book.

Enter your preferences and check the current availability. Select your desired holiday rental or favourite residence accommodation.
Book any extras if you like, check the price and book online. For example, it may be easy .....
Offers, discounts & promotions
Keep your eye on our website we have different prices including a furnished rental tent at a discount.

Curious if there currently offers?

The Tarn is an extremely beautiful department in the South of France with a lot of varieties in terms of landscape.