Attractive stay and fantastic hiking that can all be done at camping Domaine LaCanal. Enjoy the outdoors and lots of hiking fun. In the surrounding of our campsite you will find dozens of miles of hiking and biking trails.
There are several guided hiking trails, well landscaped and marked long and short cycling and walking routes.
In autumn the weather is usually stable, and perfect for walking holidays so in September the campsite and cottages gîtes are still open.
A good start of the day come a rich breakfast. Enjoy a delicious breakfast buffet with croissants, pain au chocolat and petit pains, pain de campagne, various spreads, a boiled egg, orange juice, coffee or tea.
Start your active walking holiday day with a delicious french breakfast. Bon appétit!

Hiking possibilities in the area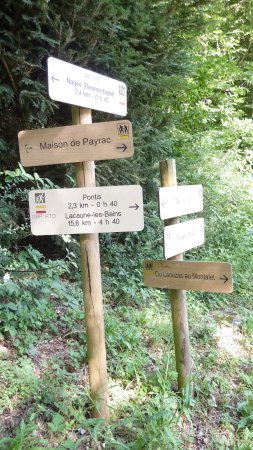 The surrounding of the campsite is perfect for walking holidays. Directly from the campsite you can make long or short walks over the hills and farmland, Around our Domaine you will find marked footpaths along the beautiful Lake of Laouzas, or through the scented pine forests.
More information about hiking opportunities in the area, maps or hiking books are available at the campsite, at the tourist information office or in the book stores. With a good detailed walking maps and GPS you can discover the beautiful nature by foot and explore the French culture of the Tarn. On the website below you will find free GPS hiking trails that you can download.


Walk from the campsite into the forest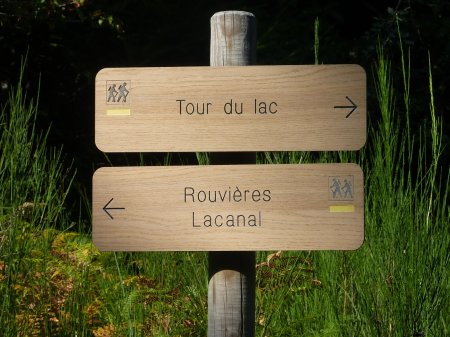 Perfect for walking, unwinding, eating and exploring. Walking, running, or hiking comes with its health and wellness benefits. While you savor the moments of nature, you can improve your health through exercise.
Every day you can take a different route or course around your neighborhood and explore nature in all its beauty.

The road to la Compostela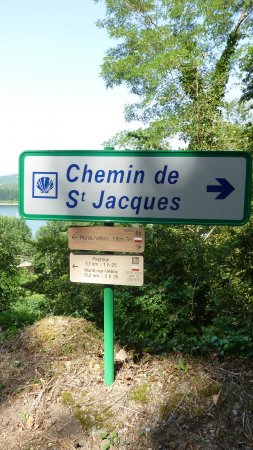 The Way of Saint James also known as the road to St. Jacques de Compostela passes near the campsite. This beautiful route through the South of France offers a variety of landscapes, colours and vegetation with many contrasts. Breathe in the refreshing air and relax while you'll pass crystal clear mountain streams and sparkling waterfalls.
More info on the hiking possibilities in the area, hiking maps and booklets are available at camping Domaine LaCanal, at the Syndicat Initiative at the lake or in the local book store.
You can also download several GPS walking tracks.
Discover the various hiking trails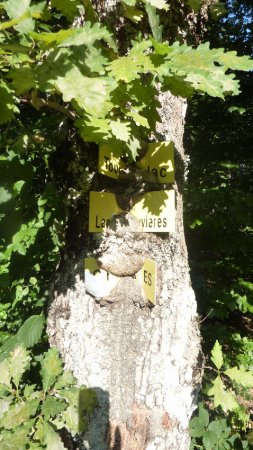 Do you like walking? The regional park Haut Languedoc has a lot of beautiful hiking areas. longer routes
There are many walking opportunities of a day but there are also long-distance footpaths which last a several days for example the road to la Compostela.
But you can also strolling through charming French villages and towns.
There are many kinds of different walking routes available.
You can even choose guided or self-guided walking holidays.
Walks with your dog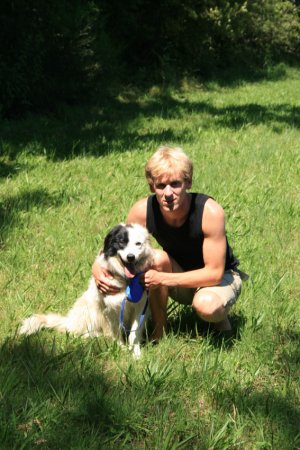 No need to leave your furry friend behind if you want to take your dog to France. Vacation with your dog than you will be looking for room to romp, water to swim and an environment where you can make long walks.
A campsite Domaine LaCanal are pets allowed. We also have accommodations where you pet is welcome.
Take a walk with your dog cheery frolics around you. And reward him afterwards with water fun. Walk to the Lake of Laouzas and let you loyal dog cool off in the refreshing water!
Hiking circuit for children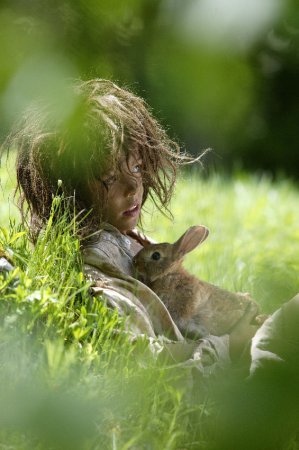 There is a special hiking trail for children "Parc enfant sauvage".

There's a certain magic that happens when you take your first step into.the adventure park of the wild child near Lacaune les Bains.
This child friendly hiking trail has exciting, funny, original and interesting things to discover for children. Fun for the whole family with its survival path, discover trail and a barefoot path.

After a walk you will get hungry So sign up for the table d'hôte and surprise yourself with a delicious dinner of the local cuisine.
All seasons walking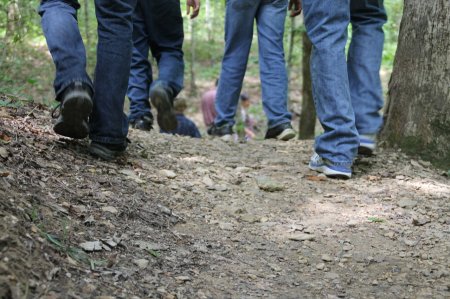 Also in the fall and winter you can enjoy the magnificent outdoors. Take a brisk walk in the fresh cold winter season. And return to a cosy holiday cottage to warm yourself by the fire with a glass of wine, a cup of soup or a hot chocolate. Then even more you will enjoy the warm luxury of the cottage.

You can walk in all seasons but the best time is late spring/early summer and late summer/early fall. Every season is unique and exciting to explore.
Walking = boring ?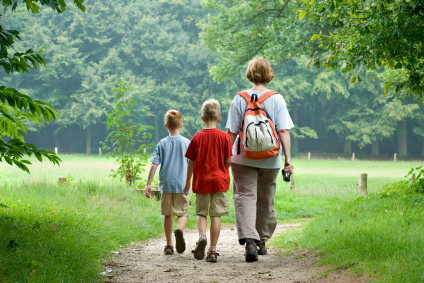 Walks with children are certainly not boring. You can visit a castle walking around it, walk through the woods or ... Take a picnic and pause at running water (dams can be build). Choose your favourite hiking trail and it will always be the right one.
The hiking options are limitless, suitable for beginners, advanced and hikers with children. The lengths of these hikes range from one hour to a multi-day hiking trail.

Of course if like you can do other outdoor activities such as horse riding, water sport activities or cycling
We have enjoyed every walk
Do you like hiking? The regional parc du Haut Languedoc has tremendous scenic hiking areas. There are one day walks and longer routes of several days.
There are many types of different hiking routes available. To get an impression about hiking in and around camping Domaine LaCanal here's a small piece from a message from one of our guests;
"As we have promised, we will send you pictures of our hikes near your campsite. We have done all routes according to those routes on that paper that we got of you and followed the signs. It were all beautiful walks. Sometimes it was a lovely landscape with sheep and rolling fields, then again we walked through a forest and then to be treated on a beautiful view over the Lake. If the walks up claimed it was, well, autumn but very beautiful. The landscape was rougher. There was hey, rocks and magnificent views over the valleys. Again and again we were curious about what is now came again. The small villages in the distance were the villages where you ran through it later. We have enjoyed every walk. October-Agnes and Jaco."
Walking holidays in the Tarn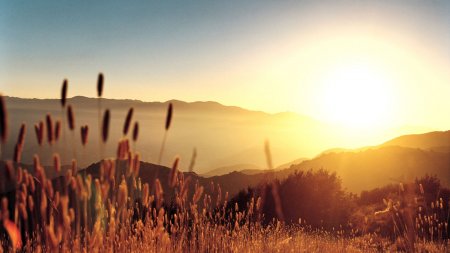 Picturesque mountains with beautiful meadows a great site for exploring nature on foot or by bike. Of course you can also go hiking in the villages and cities.