Welcome to our small camping in the countryside
On a centuries-old domain in the South France you will find Camping Domaine LaCanal.
A quiet, car-free family friendly campsite in a rural spot, surrounded by forests and fields, just a few minute walk from the refreshing lake Lac du Laouzas in Nages.
You can camp with your own tent, caravan or folding camper. The camping has spacious pitches. You can also rent a fully equipped tent stay in a charming self catered cottage. Simply the best way to enjoy your vacation. Come and see for yourself the charm and tranquillity of the French countryside.
Camping Domaine LaCanal is located in the beautiful mountain scenery des Monts de Lacaune in the region Tarn. One of the most beautiful areas of France, in the middle of the countryside surrounded by the smells, sounds, and tastes of nature. The Parc Regional du Haut Languedoc is great for those who love camping and want to enjoy the nature, dream of spending a night under the stars! Looking at the night sky is the greatest show on Earth. Perfect for a great romantic getaway or a family holiday.
Our rentals
Safari lodge tent rentals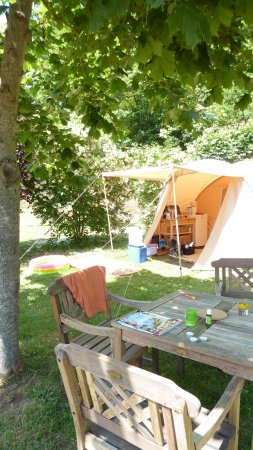 You can also rent a fully equipped tent at our small campsite.
The tent rentals are fully equipped to explore the freedom of camping so you can enjoy a carefree and relaxing holiday/
A nice solution if you like camping or just like to try but bringing camping equipment a hassle.
Come and experience the charm and tranquillity of 't French countryside. Another way of relaxing!
Charming holiday cottages Gîtes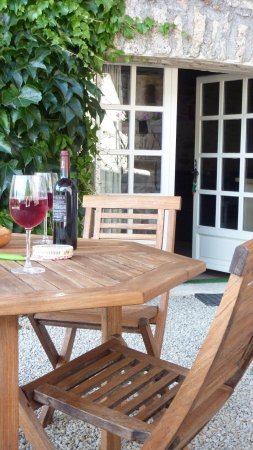 At the campsite we have two lovely French romantic self-catering holiday cottages 'gîtes'.
These two authentic gîtes are cosy and quiet situated in nature so you can fully enjoy a relaxing and carefree holiday. Both have a terrace for alfresco meals.
Both lovely cottages are furnished for 4 persons up to 5/6 persons.
Enjoy the country life and de-stress in a unique nature!
Local breakfast with daily fresh, crusty bread baguettes, French cheeses, and fine wines. Book a stay in one of our lovely cottages.
Camping** LaCanal enjoy every moment!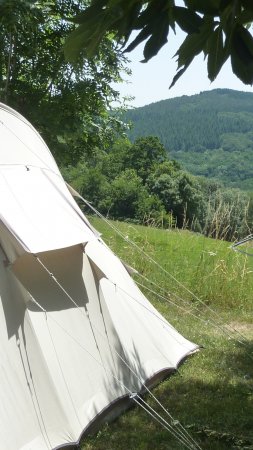 Camping holidays in France far away from the crowd to relax.
Our camping plots have sensational views over mountains and valley, all you hear are birds singing, and the lowing of cattle.
Enjoy the great outdoors at Domaine LaCanal a small campground in the middle of the French countryside à la campagne.
The campsite is car-free so you and the children can enjoy the undisturbed views and wildlife. All camping pitches are naturally delimited and hooked-up with electricity.
Pets are part of the family and welcome. An environment where you can totally unwind. Camping as it used to be!
The Tarn, beautiful place to visit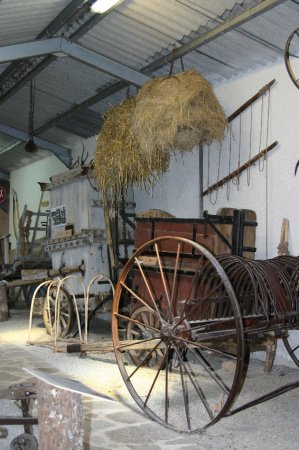 The Tarn perfect for a camping holiday in France. Explore and get lost through picturesque villages, relax with coffee or a glass of wine on a sunny terrace, taste the French kitchen, discover great restaurants, visit flea markets, galleries, museums, churches or be active and make a beautiful mountain bike tour, enjoy a walk, maybe even an idyllic horse ride outside or go for a relaxing swim.
Or ... just simply enjoy your holiday. We have something for everyone, from culture and being surprised by the local wines to relax in the sauna with a bamboo massage with a magnificent view of the Lake Laouzas.
Eco Concept zero cars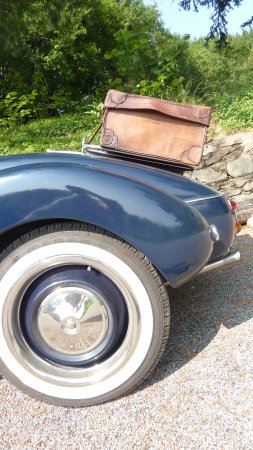 Our concept of 'zero voitures' campsite or car-free is simple:
We have two parking spaces where you can park your car.
We find a campsite without cars more attractive and more natural, and the cars do not disturb your view.
Less traffic and safer for young children, visitors and animals walking around the campsite.
No nuisance from slamming doors and/or engines being started.
The sound of a carradio is replaced by singing birds and crickets.
Camping services
At your disposal at the campsite :
- We offer a daily bread service. At the reception you can order croissants, pain au chocolats, baguettes, brown bread for the next day.
- Breakfast ordered the day before.
- Daily fresh home made take away meals.
- Icecreams, cold and warm drinks.
- You can rent a eletric fridge, towels, baby package (consisting of a high chair, cot & bath), gas barbecue (Reservation is recommended, while supplies last).
- Due to our ecological responsibility, it has been decided to preserve the natural environment, free WIFI is only available at the reception.
- Tourist brochures,
weekly magazine
, hiking maps.
Don't miss, nice excursions in the area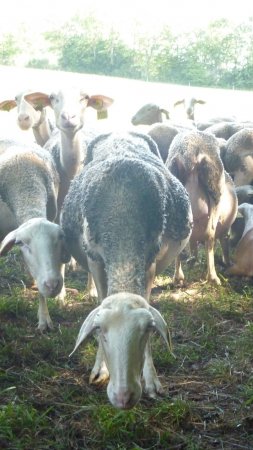 There are lots of great getaways you can take together or with the whole family. How about a visit to the caves of Roquefort cheese.
The cheese comes from here and is made from sheep milk from the Lacaune sheep. The sheep are kept in a traditional way.
The Monts de Lacaune, the Haut Languedoc, Laouzas lake with its beach, the pool, the various activities in the wooded area, such as biking, hiking, horseback riding, swimming and water sports like canoeing or sailing.
Relax near the lake Lac du Laouzas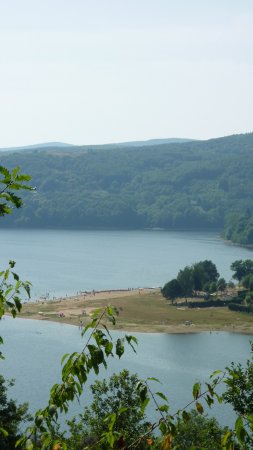 Domaine Lacanal is located on the edge of the Tarn in the heart of the plateau of the four lakes.
At the border of a crystal clear lake of Laouzas you'll find ou small campsite.
A recreation lake with a small beach, swimming pool and various activities to do in this wooded area such as cycling, hiking, horseback riding, swimming and water sports. Being active in the water, from canoeing to surfing or just taking a swim in a natural environment provides benefits of exercise. A good excuse to get outdoors and enjoy all that nature has to offer. Take a relaxing day and get pampered. Visit the sauna and whirlpool spa for a bamboo massage or facial. The sauna and whirlpool have a beautiful view over the lake.
Cycling Holidays & Hiking Holidays in france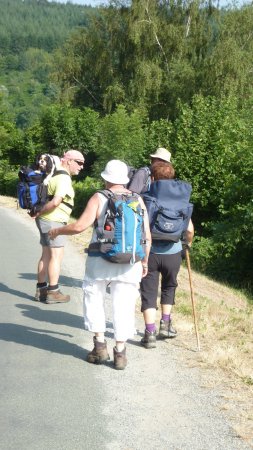 Walking holidays on footpaths in a hilly and mountainous region of South-France with a great geological diversity of landscapesk.
Straight from the campsite and in the immediate vicinity you will find dozens of kilometres of hiking and cycling trails.
Walkers can venture through the forest or along the lake and rivers with crystal-clear pools to swim in.
There are a variety of walks, well landscaped and marked long and short cycling and walking routes along the Lake Laouzas and through the woods. Ideal for a walking holiday for both novice and experienced hikers.
Tv recordings of the rvu "Le Reve" LaCanal
The six-part RVU-series on Dutch in the French campsite and tourist industry. The tv episode about small Camping Domaine LaCanal is broadcast under the title à la recherche du repos either looking for the rest. Have you missed the broadcast or do you want to just have a look visit www.rvu.nl
Breakfast, lunch or diner -
Made with ♥
On holiday you don't want to cook, so enjoy our fresh home made takeaway meals! A great way to start your holiday and for you time to recover from the journey. Each day you can order fresh bread, croissants, pain au chocolat, brown bread for the next day at the reception. Or enjoy breakfast on the terrace or venture out to one the cafes in the villages.
The four seasons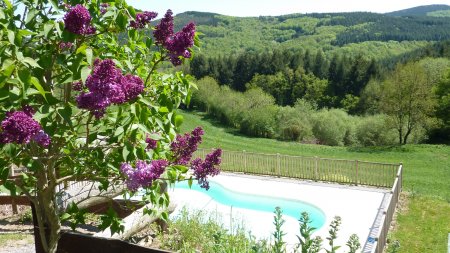 No matter which period you come, there are always several outdoor fun activities.

In the ANWB Guide "small campsites" Domaine Lacanal is listed as a beautiful and quiet area.
Glamping Camping - the new luxury camping with fun glamping campsite rental accommodation.
Lacanal can also be found at gites.nl and 30+ kids, ANWB and ACSI Small and Fine.
Explore the mountains of Lacaune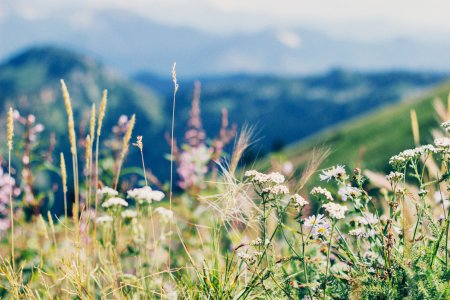 Website PageLoisirs loaded with fun holiday addresses, outings, and useful information on nature the Parc Régional du Haut Languedoc, among others with:
• Attractive and cosy accommodations
• Child-Friendly camping
• Welcoming reception
• Excellent service, pets welcome
• Surrounded by nature, on a lake, in a city. . .
Camping & General opening times
Here you will find information about our opening hours at the campsite and at the reception.
Opening and closing dates ;
The self-catering holiday cottages are for rent the whole year.
The campsite is open: from the first of juin until 5 October
The rental tents are for rent from 1 juin until 15 September

Reception opening hours - daily
In the low season: from 9.00 to 12.00 and from 14.30 to 18.00
In the high season: from 8.30 to 12.30 and from 14.00 to 20.00

We speak English, French, Dutch, and German.
We will be pleased to welcome you!
Offers, discounts & promotions
The current prices may differ from those mentioned in the static price list.
To check availability, please go to our booking calendar or contact Us. We're here to help you!
Booking calender & availability
Find your accommodation at the campsite Domaine LaCanal with our Real-time Availability. Check online the availability of the self-catering units, rental safari tents, camping pitches, and Book Online!
Please enter your preferences and search. Choose the desired time period, camping facility or accommodation and the number of persons. Then click availability. You can go back and change your search criteria at any time.
When you've selected a date you like, you can go further and make a booking.
In the pre- and post-seasons, you can benefit an inexpensive camping holiday in France!
Using your navigation device uses the GPS coordinates of the campground
bg 43°39'19,9" lg 2°47'20"

Route description to camping Domaine Lacanal France
Paris – Clermont-Ferrand – Millau. At Millau you take the D992 to St.-Affrique. The D992 continues in the D999 – follow this route until after St.Pierre, then turn left (D32). The D32 continues in the D33 – follow this route to T-crossing at Lacaune. Take the D622 to Murat-sur-Vèbre – follow this route until the turning to Nages. Just after the village of Nages you will see a sign "Domaine Lacanal". Follow that sign and turn left. Keep following the signs "Domaine Lacanal" or "Lacanal.
Have a good trip, see you soon... Bon voyage et á bientôt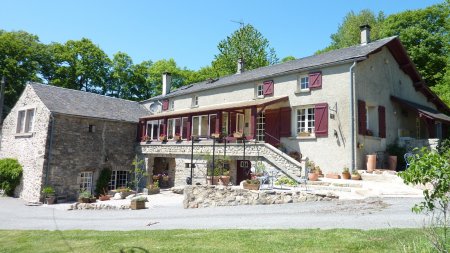 We look forward to seeing you at Small Site Camping Domaine LaCanal**