In the surrounding you will find many fun outings for swimming fun.
At the campsite there is a swimming pool with a magnificent view.
At the lake Lac du Laouzas you can swim in a pool or in the lake itself.
In the village Lacaune les Bains you can even swim in warm spring water.
Swimming pool at the campsite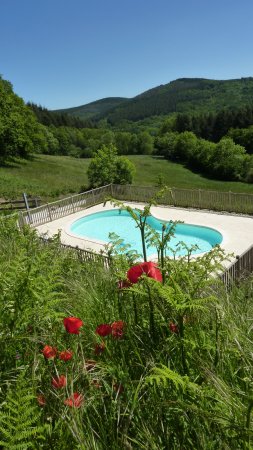 The swimming pool at the campsite is situated on the south side of a hill and has a beautiful view guaranteed all day sunshine.
We have chosen a beautiful kidney-shaped pool. Because of the depth of 1.20m this is a great size for children.
They can have fun in swimming, splashing and playing. Of course you can also cool off here or a swim.
For the smallest there is a large roman steps so that they can also work with mom or dad enjoy the water. The pool is fenced.
Recreation lake lac du Laouzas and his pool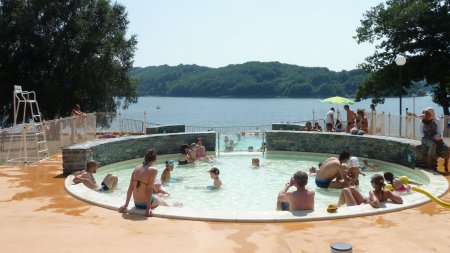 At the recreational lake Lac du Laouzas is a nice beach where you can relax and have a good workout in water.
The whole holiday, there is plenty to do. At the lake there is a swimming pool. There is also a playground where you can play! And do not forget the trampolines ...
Bathing in spring-water at Lacaune les Bains
Pay a visit to the pool "Espace des Sources Chaudes" Lacaune les Bains. This pool has an indoor pool with an infant - toddler playground and an outdoor pool with water slides. The spring water in the indoor pool is at a constant temperature of 30 degrees. There is also a relaxation room, a gym room, a Jacuzzi, a sauna and a hamam.Een source of fun for all ages!
Note Do not forget your swimsuit - swimming trunks! In a French public swimming pool it is not allowed for men in "Bermuda-style" to enter the pool or swim. You need a regular "old-fashioned" swimming trunk also in the pool 'Espace des Sources Chaudes at Lacaune les Bains.
Pool 'Espace des Sources Chaudes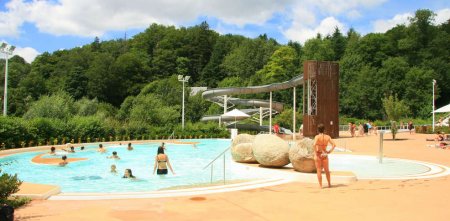 Swimming pool L'Archipel in Castres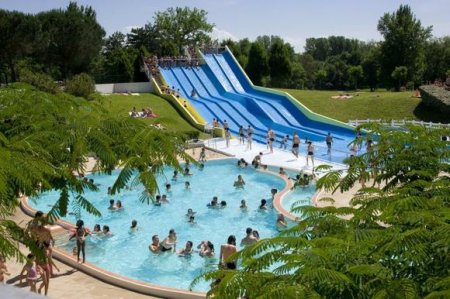 L'archipel swimming & ice skating
This huge swimming pool Castres has several indoor and outdoor pools and all kinds of water slides.

Besides swimming you can also ice skating in the adjacent ice rink at the indoor skating rink.

A lovely day out for the whole family.
Canyon Gorges d'Heric in Mons la Trivalle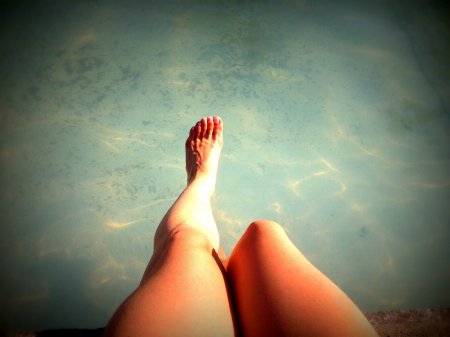 Climb and hike through the canyon the Gorges d'Heric Mons la Trivalle (Herault in the department). Beautiful impressive rock formations sometimes hang over the deep gorge carved by erosion.
In addition to the paved road is a pleasant river where you can cool off during the summer and enjoy the fresh water.
Dive in to the water splash and cool off